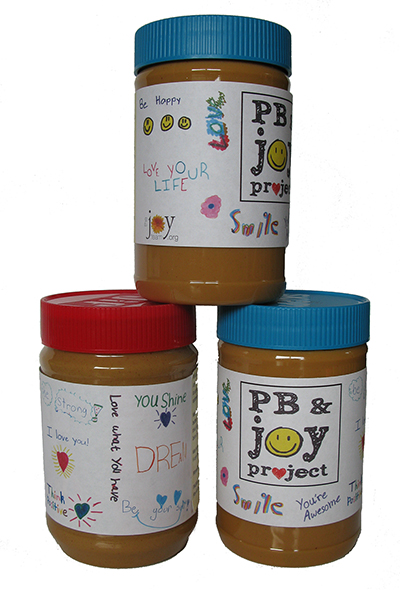 The Joy Team needs 1,300 jars (18 oz and plastic only) of peanut butter. And we're going to need them every month, September through June. Here's why.
25.4% of kids in Clark County live in food insecurity. Which is higher than the national average of 21.6% of kids, according to Feeding America. Through a new program launching this month called PB & JOY Project, The Joy Team is combining the inexpensive, no refrigeration or preparation needed nourishment of peanut butter with the positive message these—and ALL—kids need for emotional development.
Special labels covered with affirming, optimistic messages, all drawn by members of The Junior Joy Team, will be wrapped around donated jars of peanut butter. The PB & JOY jars will go to Share to be included in their Backpack Program for school-age kids living in food insecurity in Clark County.
By wrapping peanut butter jars with positive, encouraging messages we're reminding these kids of the valuable, beautiful people they are every time they see that jar. The more they see it, the more they'll feel it. And the more they feel it, the more they'll believe it.
Will you donate some peanut butter? Please? And will you consider adding an 18 oz plastic jar of peanut butter to your shopping list every time you go to the grocery store? It's only $4 a jar at WinCo. That's about the cost of a latte at Starbucks.
The Joy Team is also partnering with the Vancouver Parks and Recreation Department for donation sites for the PB & Joy Project. Unopened 18 oz plastic jars of peanut butter can be dropped in the receptacle in the lobbies of both Marshall Community Center and Firstenburg Community Center. Visit PBandJoyProject.org for a full list of drop locations or to donate online.
**Have (or know of) a business that would like to be a collection site for PB & JOY Project? Please let us know!**
PB & JOY Project is a project of The Joy Team made possible by partnering with Share, Vancouver Parks and Recreation and Taylor Made Labels, who have generously donated the labels for PB & Joy Project. All the messages on the labels are drawn by members of The Junior Joy Team (kids ages 6 – 13).
Tags: clark county, firstenburg center, hunger, kids, marshall center, parks and recreation, PB & JOY Project, peanut butter, share, taylor made labels, The Joy Team, the junior joy team, Vancouver