Smile Across America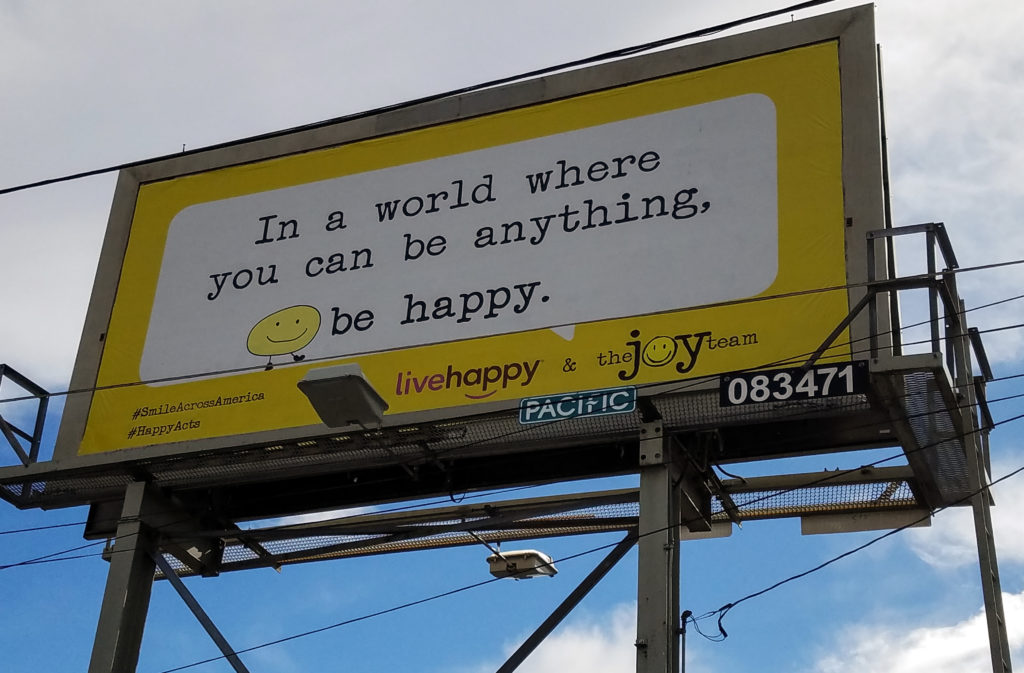 We're putting a
Smile Across America


for International Day of Happiness!

International Day of Happiness is March 20th, and to celebrate, we're putting a #SmileAcrossAmerica with positive messages on billboards, bus shelters and in malls from coast to coast.

What's so great about being happy? A whole lot, actually. When you're happy, everything in life is better. While this seems like a no-brainer, some pretty smart people have gone to great lengths to back this statement up with real science. (People at Harvard, Berkeley and University of Pennsylvania, for example.)

Science or no science, when you ask people what they really want in life, and what they want for their children, most say the same thing: to be happy. We're totally on-board with that. So, for the 4th year in a row, we're shouting about it from the rooftops. Or at least from some big signs. 261 of them in 28 cities, to be exact.

Thanks to the support of  Clear Channel Outdoor, JCDecaux North America, Pacific Outdoor Advertising and our 2018 Smile Partner, Live Happy Magazine, these 257 smile-boosting signs will begin popping up as early as March 12 and remain up for 4 weeks. Here's where you can find them:
Albuquerque
Atlanta – 5 billboards
Baltimore – 2 billboards
Boston – 26 bus shelters
Chicago – billboard and 75 bus shelters
Dallas – 2 billboards and 10 mall posters at Willow Bend
Detroit – 30 mall posters at Great Lakes Crossing (10), Twelve Oaks (10), & Fairlaine Town Center (10)
El Paso – 2 billboards
Houston – 5 billboards
Jacksonville, FL
Las Vegas – 5 billboards
Los Angeles
Melbourne, FL
Miami – 5 billboards
Milwaukee
Minneapolis / St Paul
New York City – 8 mall posters at Short Hills
Orlando – 5 billboards
Philadelphia
Phoenix – 4 billboards
Portland, OR – 2 billboards
Sacramento – 3 billboards
Salisbury, MD – 10 billboards
San Antonio
San Francisco – 5 billboards and 26 mall posters at Embarcadero (8), San Francisco Centre (8), and Sunvalley (10)
Tampa
Washington, DC – 8 mall posters at Fair Oaks
White Plains – 15 billboards
Have billboard, bus shelter or mall poster space and want to spread some smiles with us? The artwork can be downloaded here. Let us know, so we can give you a shout out and add your city to the list.
Although (like International Day of Happiness) #SmileAcrossAmerica is just once a year, The Joy Team has positive messages up year-round in the Portland, Oregon, metro area. Our positive message billboards have inspired people, made them smile, helped them celebrate birthdays and deal with cancer, memorialized loved ones and even saved a life at least once. They're kind of magical like that.
Spread
joy

with us!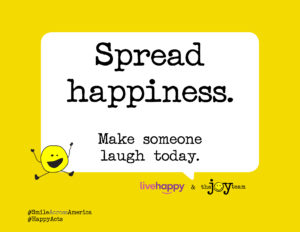 Print out some 8.5 x 11 posters of our Smile Across America messages and put them up at home and work in windows, hallways, lunch rooms, bathrooms… anywhere you can think of to encourage a positive attitude! Download them here.
Check out photos & info from past years:
Photos of this year's cheerful messages will be posted here as they come in. Add to our gallery by sending in a photo of a billboard, bus shelter or mall poster near you. Bonus points for selfies!