Think Happy Rally

The Think Happy Rally is the first to combine driving, the popular selfie, social media and a good old fashioned cash prize. Anyone can join the Rally and there's no fee to enter, though you may find you've given away a few smiles along the way.
In October, which is Positive Attitude Month, there will be 19 big yellow positive messages on billboards and buildings in the metro area of Portland / Vancouver that encourage positive thinking.
Join the Rally:
Go to each and every sign (pdf location list here, Google Map here)
Take a selfie with the messages (be safe: no climbing on anything)
Post them on Twitter or Instagram with the hashtag #ThinkHappyRally and/or on the Think Happy Rally Facebook page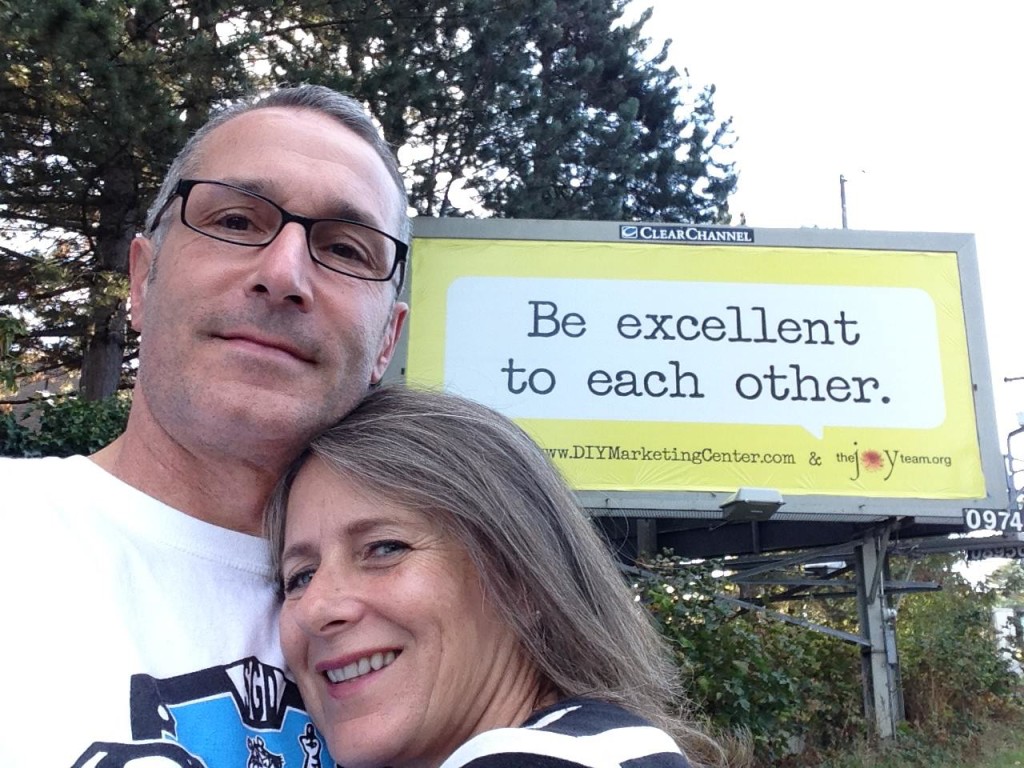 Prizes:
Super cool surprise prizes will be given to randomly selected ralliers every few days.
The first 40 people to complete the Rally by posting photos with all 19 messages will get a t-shirt and bag of goodies from the message sponsors, given out at the Happy Hour.*
Everyone who completes the Rally by October 25th will be entered in a drawing for the GRAND PRIZES:

$1,000 cash
YOUR name on a Joy Team billboard in December 2015
More chances to WIN: Get entered twice by posting all 19 selfies to 2 social media platforms, or get entered three times by posting to all 3 social platforms (Facebook, Instagram AND Twitter) with #ThinkHappyRally (on Facebook you must post on the Think Happy Rally page for us to see it due to privacy settings)!
*We'll celebrate our positively inspiring joy ride with a Happy Hour, where we'll give out the goodie bags and draw the names of our GRAND PRIZE winners.
Research shows just seeing positive words and messages lowers physical and emotional stress; and that just the act of smiling releases endorphins and serotonin, naturally boosting your mood and immunity. Research also shows that happiness is contagious.  *Click here for more about the science behind the Think Happy Rally.*
By sprinkling the metro area with positive messages, asking people to take selfies with them and share those selfies with all their friends on Facebook, Instagram and Twitter, we're lowering stress, boosting immunity and happiness and creating a ripple effect well beyond our community.
Keep posted on Think Happy Rally information by following on Facebook.com/ThinkHappyRally and Twitter @TheJoyTeam. The message location list will be released in both places on October 2nd, World Smile Day.
2015 Think Happy Rally Messages
Our positive message billboards have inspired people, made them smile, helped them celebrate birthdays and deal with cancer, memorialized loved ones and even saved a life at least once. They're kind of magical like that.
Just imagine what 19 of them up at once can do.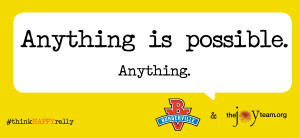 Anything is possible. Anything.  Burgerville    *billboard bumped – share image to right instead of selfie
Be you. The world needs more of your kind of awesome.   Carson Footwear
Behind the darkness, there is light.   CHAP
Believe in your AWESOMENESS.   The Joy Team
Happiness is contagious. Start an epidemic.   Unitus Community Credit Union
Happiness is wherever you are. Thanks for bringing it here.   Vancouver Downtown Association
Inhale. Exhale. Smile. Repeat. The Joy Team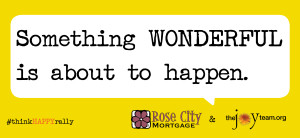 Look for the silver lining. That's the best way to find it. Heather Strang
Love who you are. We do.   Heather Strang
One kind word can change the world.   Unitus Community Credit Union
Rock the planet with LOVE.   Women Entrepreneurs Organization
Smile. Happy is SO your color.   The Joy Team
Smiling leads to happiness. Try it. We double dog dare you.   Umpqua Bank
Something wonderful is about to happen.   Rose City Mortgage   *billboard bumped – share image to right instead of selfie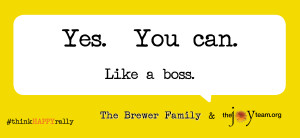 Think happy thoughts. They're better for you than blueberries.   The Joy Team
Yes. You can. Like a boss.   The Brewer Family   *billboard bumped – share image to right instead of selfie
You are light. Shine bright.   Heather Strang
You got this. And, bonus, you look amazing today.   Yelp.com
You make a difference. A big one.  Unitus Community Credit Union

The #ThinkHappyRally is a project of The Joy Team.  See photos from the 2014 Rally here.