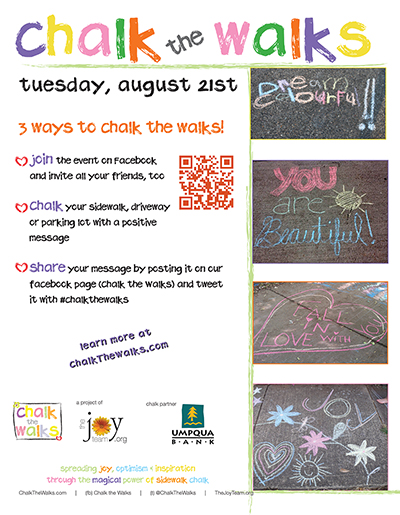 Chalk the Walks 2012 is coming right up!  Join us on Tuesday, August 21st in this international event of spreading joy, optimism and inspiration through the magical power of positive messages and sidewalk chalk.
Here's how you do it:
Join the Facebook event: Chalk the Walks 2012!
Chalk where ever you are (check with your city, but typically chalking is allowed on your own sidewalk, driveway or store front).
Take a photo of your positive message and share it with people from at least 25 states and 3 countries by posting it on the Chalk the Walks 2012 Facebook page.
If you're in the Vancouver, Wa / Portland, Or area, join The Joy Team, The Junior Joy Team and Uptown Village Association as we spread some joy on Main Street in Vancouver, USA.  We'll be there from 10:00 am to 1:00 pm on the 21st working out of Pop Culture.  Bring the kids!
Need chalk? All 5 Vancouver Umpqua Banks are giving chalk away in their stores beginning Monday, August 13th.  Thank you Umpqua for being our Official Chalk Partner!
Tags: chalk the walks, main street, pop culture, The Joy Team, the junior joy team, umpqua bank, uptown village association, Vancouver, Washington