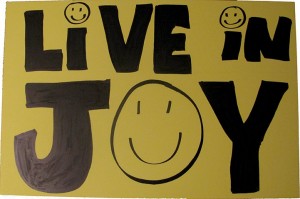 Looking for a sign that the holiday weekend will be as wonderful as you hope for?  You've just found one.
And, if you happen to be driving northbound on I-5 in Portland, Oregon, today you'll see quite a few more.
The Joy Team and The Junior Joy Team will be out spreading joy, optimism and inspiration through the power of positive words and messages. Look for us. We'll be the ones waving yellow and white signs of joy from a pedestrian bridge.
Have a fabulous, wonder-filled long weekend.  Honk for happiness! 🙂
Tags: happiness, live in joy, rush hour traffic, sign, sign wave, The Joy Team, the junior joy team