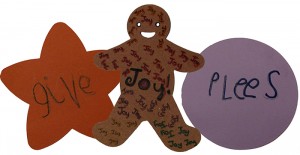 Join our Random Words of Kindness Parade!
The Junior Joy Team, Hough Elementary's Leadership Team, all their students and YOU are invited to join us Thursday, December 20th.
Random words of kindness and joy drawn by the kids of Hough Elementary and The Junior Joy Team will be hung on trees down Main Street and in Esther Short Park in Vancouver just days before Christmas on the morning of December 20th. Words and phrases like joy, love, smile, love yourself, shine bright, and more drawn on stars, circles and gingerbread men will be joyfully hung on tress by Junior Joy Team kids and Hough Elementary students in a parade of kindness, love and joy.
Every month Hough students focus on a character trait and work on emulating it throughout the month. December's character trait is kindness.  After an assembly on December 10th focused on the power of kind words and acts, kids were given cut-outs to adorn with words of kindness, joy and love. The ornaments are laminated and will be offered as gifts of the season to any who find them.
We're meeting at Hough in Vancouver at 10:00 am Thursday and will begin our route down Main Street, making our way to Esther Short Park.
After the Random Words of Kindness parade culminates at the park, The Junior Joy Team will head to Umpqua Bank on the edge of the park to wrap hundreds of jars of peanut butter in joyful messages as part of the PB & JOY Project. Umpqua Bank will have cocoa and snacks for the kids after the parade and assist in wrapping peanut butter jars–many of which the bank has collected. The jars of PB & JOY will be given to Share to go in their Backpack Program; which sustains children living in food insecurity in Clark County schools.
The need to shift our thoughts, words and actions to those of kindness, joy and love only seems to grow.  Our partnership with Hough Elementary and their 300 kids is a great way to start a positive shift in thought and deed that will ripple out farther than we can possibly know or imagine. And we're certain it will make a difference in the lives of these children and those around them.
Tags: Hough Elementary, junior joy team, kindness, parade, pb and joy