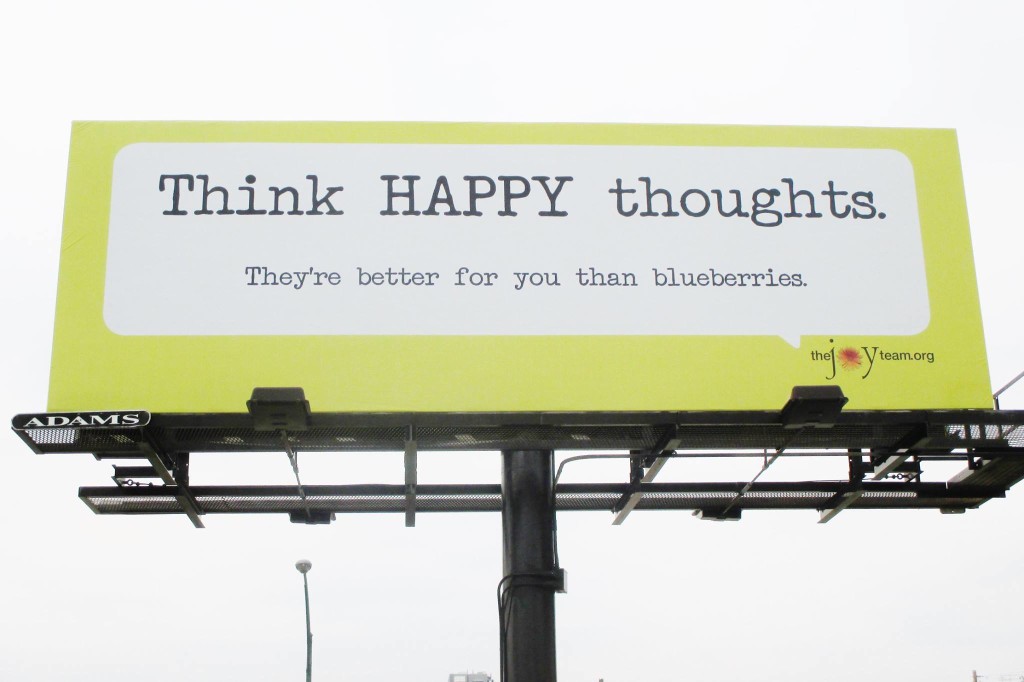 An ad campaign with the sole purpose of making you smile is up and running in Champaign, Illinois. We're teaming up with Champaign's Adams Outdoor Advertising office for a year-long happiness project that will rotate four positive messages on billboards as space is available.
Three of the four messages are based on scientific research about what makes people feel happier; and all four are sure to lift spirits and spread smiles. They are:
Think happy thoughts. They're better for you than blueberries.
Smiling leads to happiness. Try it. We double dog dare you.
Be excellent to each other.
You are beautiful.  Dazzling. Radiant. Gorgeous. Yes, YOU.
On the two poster sized boards ("Smiling leads to happiness" and "Be excellent to each other") went up June 15th at:
1602 S Neil Street, 250 feet south of Kirby Avenue on the east side, and
Springfield Avenue, 20 feet east of Duncan Road on the south side.
The two larger bulletins went up July 1st at:
701 N Neil Street, 20 feet north of Vine Street on the west side
1409 N Prospect Avenue, 130 feet south of Francis Drive on the west side
The messages will be rotated around Champaign for the next year to bring smiles and good cheer.
"Adams Outdoor Advertising was founded on the belief that outdoor advertising is more powerful than anyone has yet to imagine," said Rhonda Lash, General Manager of Adams Outdoor Advertising in Chapaign.  "And while our primary focus is the growth and development of the local business community, we were touched by this small organization's big dreams, and are incredibly proud to help spread the joy."
The Joy Team and Adams Outdoor encourage people to help the happiness spread by posting selfies with the billboards on Facebook, Instagram and Twitter with the hashtag #SpreadJoy. Tag your photos with @TheJoyTeam then go to the Adams Outdoor office at 1711 Dobbins Drive and pick up a bumper sticker or window cling carrying a positive message from The Joy Team.
Tags: ad campaign, adams outdoor, billboards, champaign, happiness, illinois, The Joy Team