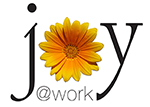 I spent a little time at the Farmers Insurance call center in Hillsboro, Oregon, and was amazed at how hard they work to keep their workplace a positive place.
Over the sea of cubicles (which is, let's face it, not so joyous) float more than a hundred mylar balloons (very joyous).  There's an on-site gift shop filled with cheerful items where employees can buy–nearly at cost–those balloons, paper sunflowers, painted pots, butterfly magnets and more.  And on the walls all around the building are huge motivational pictures, including these:
If Walt Disney can start with $750 and go on to create a magical empire,  and a guy who couldn't make his high school basketball team can lead 6 world championships, and a single mother on welfare can write the Harry Potter series, and…then anything's possible, right?
Si, se puede.
That's a pretty great attitude to surround your employees with.
Thank you, Farmers Insurance, for spreading joy, inspiration and optimism at work!
Tags: Albert Einstein, Cesar Chavez, Farmers Insurance, Helen Keller, J.K. Rowling, John Lennon, Joy at Work, Michael Jordan, Rosa Parks, Thomas Edison, Walt Disney