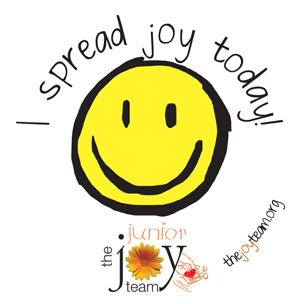 We're going to Hough Elementary (go Hough Hawks!) today for our very first JOY Assembly, and we are super excited!
Nearly 300 students will learn why joy matters, hear from The Junior Joy Team members who go to school there, and learn more about the second recipients of our Happy Packets: The Vancouver Police Department.  Officer Tina Smith will talk to the kids just before they go back to there classrooms where each student will write a personalized note of appreciation to every person working for the Vancouver Police Department.
Wow. Just think about it.  300 kids, all practicing gratitude, performing an act of kindness, and spreading joy–all at the same time. That's a lot of concentrated positive energy, and we are so thankful to be part of it.
On May 2nd, after The Junior Joy Team has caringly stuffed these personalized notes into our Happy Packets, we'll get to deliver them to the Vancouver Police Department. The kids will meet the Chiefs of Police and even get a little tour while spreading their joy around. How awesome is that?
We're spreading joy, optimism and inspiration to millions.  Wanna help?  You can donate any amount to help us with our joy spreading programs, or inquire about how to make in-kind donations. We need candy for our Happy Packets, Love Your Life cards (printing donation) and other goodies we can use to spread joy around.
Tags: elementary, hough, joy, kids, police, The Joy Team, the junior joy team, Vancouver, Washington