FREE Posters
If you like the billboards, you'll love these!
There are 2 styles for each billboard design: regular and co-branded. The co-branded posters have some white space at the bottom so you can customize them with your logo or a message.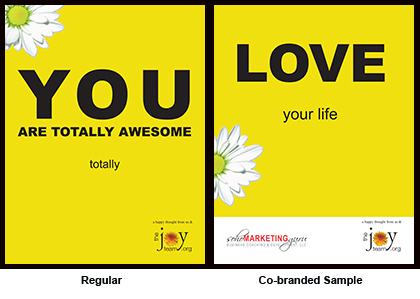 For each poster design and style, there are 3 sizes: letter, legal and tabloid (11×17).  Pick the design, style and size you like; download the pdf; print and post up.
Spread some joy!  And send us a photo of where you've put up your poster and we'll spread the word about it.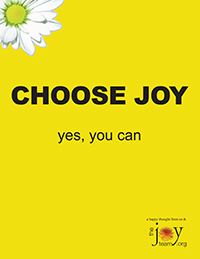 Choose Joy – regular:    8.5″ x 11″ |   8.5″ x 14″ |   11″ x 17″
Choose Joy – co-branded:    8.5″ x 11″ |   8.5″ x 14″ |  11″ x 17″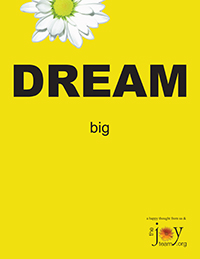 Dream Big – regular:
8.5″ x 11″ |     8.5″ x 14″ |     11″ x 17″
Dream Big – co-branded:
8.5″ x 11″ |     8.5″ x 14″ |     11″ x 17″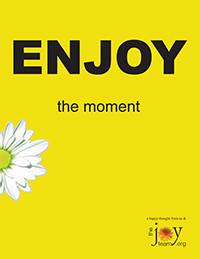 Enjoy the Moment – regular:
8.5″ x 11″ |      8.5″ x 14″ |     11″ x 17″
Enjoy the Moment – co-branded:
8.5″ x 11″ |      8.5″ x 14″ |     11″ x 17″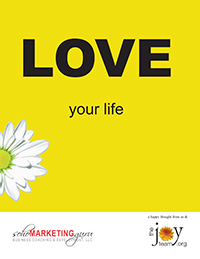 Love Your Life – regular:
8.5″ x 11″ |      8.5″ x 14″ |     11″ x 17″
Love Your Life – co-branded:
8.5″ x 11″ |     8.5″ x 14″ |    11″ x 17″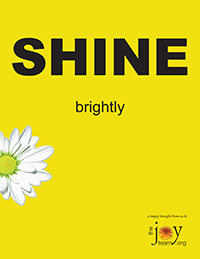 Shine Brightly – regular:
8.5″ x 11″ |     8.5″ x 14″ |     11″ x 17″
Shine Brightly – co-branded:
8.5″ x 11″ |    8.5″ x 14″ |    11″ x 17″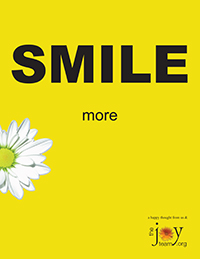 Smile More – regular:
8.5″ x 11″ |     8.5″ x 14″ |     11″ x 17″
Smile More – co-branded:
8.5″ x 11″ |     8.5″ x 14″ |      11″ x 17″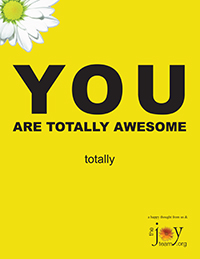 You Are Totally Awesome – regular:
8.5″ x 11″ |     8.5″ x 14″ |     11″ x 17″
You Are Totally Awesome – co-branded:
8.5″ x 11″ |      8.5″ x 14″ |     11″ x 17″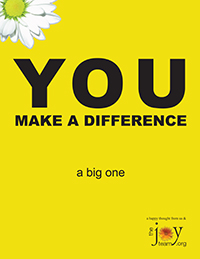 You Make a Difference – regular:
8.5″ x 11″ |  8.5″ x 14″ |  11″ x 17″
You Make a Difference – co-branded:
8.5″ x 11″ |  8.5″ x 14″ |  11″ x 17″