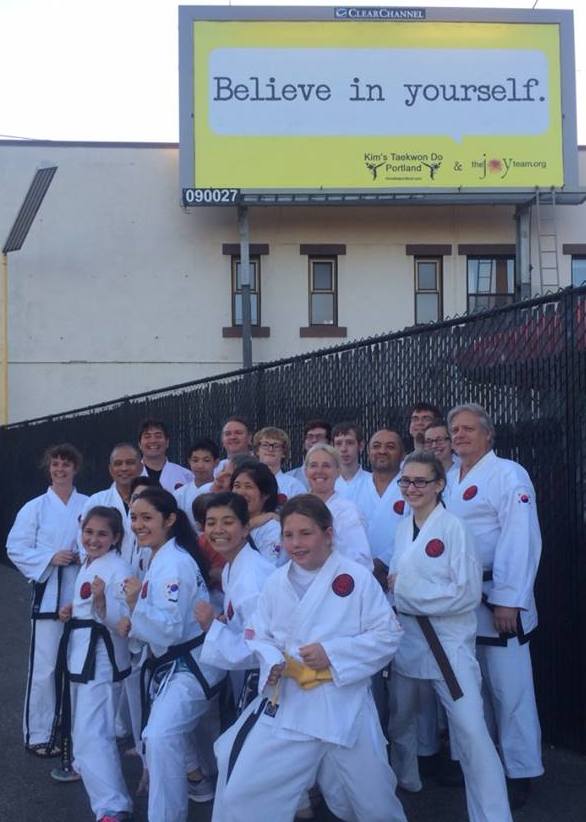 Kim's Taekwon-do helps people work toward personal transformation every day through the martial art they teach. And now they're also doing it through a powerful message on a billboard.  The big yellow board simply says, "Believe in yourself". It's one of the inspiring billboards put up every month by local positive thought organization, The Joy Team, and can be found on NE Sandy Blvd, 130 feet West of Wasco Street.
"Whenever I see one of The Joy Team billboards I feel inspired; like the message is meant for me personally," said Shawna Secord, 4th Degree Instructor at Kim's Taekwon-do in Montavilla Community Center. "The billboard messages are consistent with the values Kim's Taekwon-do inspires in our students.  The simple messages have a powerful impact. Like joy, taekwon-do has the power of transformation.  We show people by example that change is not only possible but achievable. "
Shawna was the driving force behind putting up the billboard, but it has champions throughout the ranks at Kim's, from head instructor Cynthia Brown to 13-year-old assistant instructor Lizzet Gracia. Even parents of Kim's young students, like Barbara Miller, are behind this outward expression of a core inner truth.
"We invite all Portlander's to 'believe in yourself' and to work towards personal betterment. Small goals set and achieved can lead to larger ones," said Master Cynthia Brown, 6th Degree Head Instructor of over a dozen Kim's Taekwon-do schools in the Portland metro area and North Oregon coast.  "Over the years we have been amazed by the examples of personal progress demonstrated by our many valued students."
"I think 'believe in yourself' is such an important message for everyone because things might get tough in life but you've got to believe that you can do whatever you set your mind to do," said Lizzet Gracia, 13-year-old and 2nd Degree Assistant Instructor at Kim's in Southwest Community Center.  Lizzet began classes at Kim's when she was 5 years old. "I think the billboard will help show people that taekwon-do is fun and that it can change lives. Like building their confidence or being able to make friends."
"As a parent, I want my kids to know that most of what they will accomplish, or in some cases don't accomplish, comes from within," said Barbara Miller, parent of student Cory Miller who started with Kim's when he was 7, Cory is now 14 years old. "Telling yourself to, 'believe in yourself' reminds you to keep the negative thoughts out and push through with a can-do attitude."
The Joy Team began its joyful ad campaign in 2010 with clusters of billboards over a few years. Starting in October of 2013, the positive thought organization began maintaining a billboard a month to make the inspiration a constant force in the community.
Messages through 2014 are:
"You are loved" in August, by Carol McKeag, Coaching for Life & Spirit
"Anything is possible" in September by local author, Heather Strang
"Be excellent to each other" in October by Ronnie Noize at DIY Marketing
"You make a difference" in November by local artist, Collin Prasch of Singing Leaf
"JOY: give more, get more" in December by Claire and Dennis Rodman
Tags: believe in yourself, billboard, kim's taekwon-do, Portland, The Joy Team