Have happy, will travel…
We're super excited to be part of a special program that allows us to share our positive messages on billboards without even knowing it.  Sort of a random act of joy-spreading.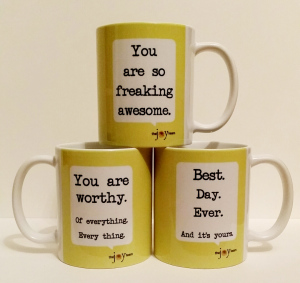 Because we LOVE to share photos of our inspiring messages, spreading the joy and optimism even farther, we're asking for your help.  If you see one of the billboards below, will you tell us where it is so we can photograph it? Please, pretty please?  We need to know what the cross streets are.  And if you've got a camera handy, feel free to snap a photo yourself and post it on our Facebook page.
To say thank you, we'll send you one of our mugs if you're the first to let us know where to find one of these traveling bits of happy.  And, we'll randomly select people to give a mug to who post a photo of any of our billboards (tag our page so we know you've posted).  Pretty freaking awesome, yes?
Look for these billboards to pop up between NOW and March.  We hope they bring some smiles to your fabulous faces. 🙂