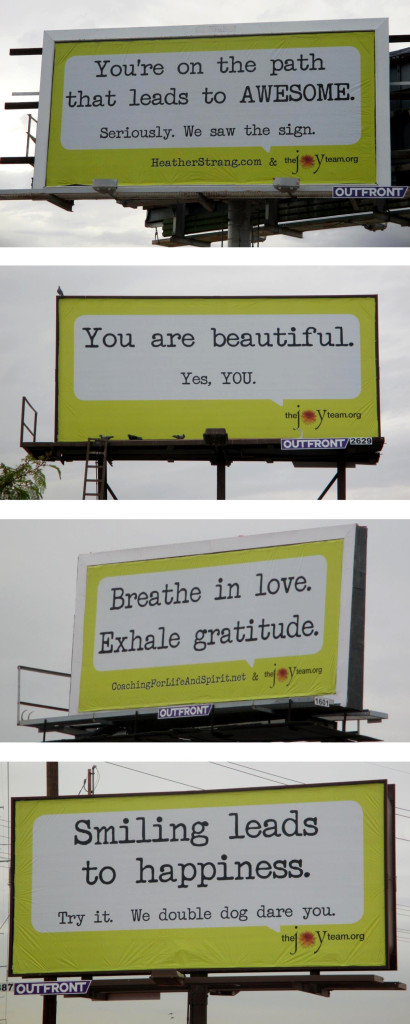 Wahooooo!!  We put up four billboards this week in Phoenix, the 6th largest city in the US and the location for this year's Super Bowl, with the sole intention of spreading  joy, optimism and inspiration.  We're essentially sending 1 Million Smiles 1,344 miles!
On the heels of putting up 100 positive messages in the Portland, Oregon/ Vancouver, Washington area, we drew the attention of Phoenix local Fred Bentzen, Account Executive, for OUTFRONT Media. Fred invited us to spread some joy in Phoenix.
"OUTFRONT Media controls around 80% of the out-of-home marketplace in Phoenix, and I was excited to work with the Joy Team to bring the message to our area," said Fred. "With incredible expediency and enthusiasm from both teams, we were able to display these posters to a massive audience, and I am thrilled to be a part of such positivity."
We were thrilled at Fred's invitation to spread some joy in Phoenix. and jumped right on it. We usually have local sponsors helping to put up positive messages in the Portland area, so to get started in Phoenix, board members Heather Strang (of Portland, OR) and Carol McKeag (of Beaverton, OR) each sponsored a Phoenix billboard and board member Patricia Johnson (of Las Cruces, NM) co-sponsored one with The Joy Team.  We're hoping to grow a base of supporters in Phoenix to keep positive messages popping up in their community.
The billboards are spread out in the Phoenix metro area.
"Smiling leads to happiness. Try it. We double dog dare you."  is on Grand Avenue, 100 feet north of 39th Avenue on the west side, just 8 miles from University of Phoenix Stadium, where the Super Bowl is being held on Sunday.
"Breathe in love.  Exhale gratitude."  is on Cave Creek Road, 94 feet north of 9th Street on the east side.
"You are beautiful. Yes, YOU." is on Van Buren Street, 100 feet west of 19th Street on the south side.
And finally, "You're on the path that leads to AWESOME. Seriously. We saw the sign." in on Apache Trail, 50 feet west of Saguaro Drive on the south side.
The combined number of times each of these messages will be seen in the four-week period they're up equates to over 1 million smiles.
"Let's face it, we all have days where we need a pick-me-up, a reminder that our life is good, we are loved & that awesome is just around the corner. It can be easy to get overwhelmed by what's going "wrong", and The Joy Team billboards are the perfect antidote. One positive message can brighten millions of people's lives and that's something I just had to be a part of," said Heather Strang, spiritual teacher and author.  It's my way of giving back – spreading positive messages to others – and I'm so grateful to The Joy Team for providing the way to do this."
Tags: billboards, heather strang, outfront media, phoenix, positive messages, super bowl XLIX, The Joy Team