My dear friend and fellow spreader of joy Dana Layon-Damara of Zen Flow Yoga and I, along with our kids, went out to pick up 75 smiley face balloons today. Add those to the 20 already in house and there are now 95 big yellow smiles filling my living room (aka: The Joy Team office).
These balloons, each accompanied with a specially-made card, are destined to to spread joy to every single patient spending Christmas in the hospital at Legacy Salmon Creek.  The cards carry simple wishes of joy and love and will be signed by several folks tomorrow before each are attached to a balloon. We'll be delivering these bright bundles on Friday to Legacy Salmon Creek and the good people working there will pass them out to each patient on Christmas Eve. Our hope is that these small tokens will bring big cheer to not only the patients, but also to the hospital staff.
A big shout out to Seth (wearing the Santa hat above), one of two managers at The Civic Dollar Tree on West Burnside in Portland. He went out of his way to help by driving around and picking up enough smiley face balloons to fill our order.  He had them filled and waiting for us when we got there.
And some more love to Camille Hollingsworth and CRAVE Portland!  The raffle she held at the CRAVE Chat last month raised $88 for The Joy Team–and almost completely paid for this holiday cheer project.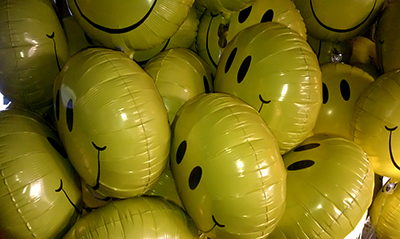 Tags: balloons, crave, dana layon, dollar tree, joy, legacy salmon creek, Portland, smiley faces